Archival ~ Instructional
Resources from the 1980s Movement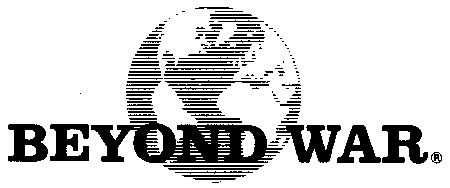 ---

The Beyond War Movement began in 1982 as a citizen response to the (1) threat of global nuclear catastrophe, (2) growing awareness of our oneness and obsolescence of war, and (3) realization that only individuals working together could redirect history and build a world beyond war.
In the 21st century this knowledge is equally important.
Beyond War's history is described on the Web at http://www.globalcommunity.org/history.shtml.

---
VIDEOS
BOOKLETS
INTRODUCTION
CHAPTER ONE -- KNOWLEDGE
Survival and Change
War Is Obsolete
Everything has Changed
Inevitability
We Are One
New Mode of Thinking
The Basis for Hope

CHAPTER TWO -- DECISION
The Process of Decision
The Decision
Personal Implication
CHAPTER THREE -- ACTION
Why Now?
Why Me?
What Must I Do?
Building Agreement

The Process of Social Change
The Challenge
BEYOND WAR STATEMENT
STUDY QUESTIONS
REFERENCES





Forward
Preface
INTRODUCTORY PRESENTATION TO A WORLD BEYOND WAR
Small Group Format
Introductory Talk Format
ORIENTATION TO A WORLD BEYOND WAR
Three-Meeting Format
Two-Meeting Format

PRESENTATION GUIDELINES
BUILDING A TEAM
RESOURCE PAPERS
The Beyond War Movement
Dot Chart
BBs Experience
Proliferatin and Technological March
Nuclear Winter

Star Wars
False Alarms
The Process of Change
Overview: Knowledge, Decision, Action
READING LIST




INTRODUCTION
KNOWLEDGE
War is Obsolete
We Are One
New Mode of Thinking

DECISION
ACTION
BEYOND WAR STATEMENT
APPENDIX (Responses To Frequent Questions)
REFERENCES
Preface
FACILITATOR'S GUIDE
Facilitator's Role
Workshop Guidelines
RESOURCE MATERIALS
Your Letters and Phone Calls Have Impact

Letter Writing Guidelines
Sample Letter
News Articles from The Oregonian
National Address List
National Telephone List
Including principles, step-by-step plans, graphics, and budget, this short booklet describes plans to
expand the Beyond War Movement across the nation to change the way Americans think about war.

I. WHY A CAMPAIGN?
II. WHAT IS THE CAMPAIGN?
III. WHY WILL THE CAMPAIGN SUCCEED?
IV. WHAT WILL THE CAMPAIGN COST?

V. HOW CAN YOU PARTICIPATE?
VI. APPENDIX
A. Campaign Paper
B. BREAKTHROUGH: Emerging Global Thinking
In February, 1989, a team of Soviets and Americans met, talked, wrote, studied, and talked some more.
They became convinced that recent changes in the world have not been incremental but radical, abrupt, total.
We now live in a different world that we did even five years ago. Everything has changed.
This booklet of insights, principles, and quotes is to stimulate each citizemd to respond
for the good of the entire global community.

PREFACE
CHAPTER 1 - EVERYTHING HAS CHANGED
CHAPTER 2 - EVIDENCE OF GLOBAL THINKING
CHAPTER 3 - THE UNDERLYING PRINCIPLE

CHAPTER 4 - CONSCIOUS PARTICIPATION
How This Book Came to Be Written
Authors
Beyond War

---
---
Return to Family Homepage
Return to Main Homepage