In August, 2000, Dr. Traubman retired from private practice.
Earlier that year he wrote this letter to each of his patients.

Dr. Traubman's Introduction of Dr. David Rothman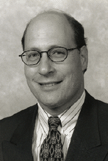 My dear patients and families,
I have some very good news for you and for me, too. There is a new addition to my practice.
Dr. David Rothman, an exceptional pediatric dentist, will now be practicing with me at my side beginning May 1, 2000. David has a warm personality and exquisite background.
An excellent educator, Dr. Rothman was Chair of Pediatric Dentistry at University of the Pacific School of Dentistry until 1998, when he devoted his full attention to his fine private practice here in San Francisco. David is a leader in our specialty, and was honored as president of our California Society of Dentistry for Children. He is asked to lecture to dentists and physicians, nationally and internationally. David lives in the City with his wife, Peggy, and their children: Paul, 10, Laura, 7, and Will, 5.
I feel very lucky that Dr. Rothman is joining me. He is a competent, careful practitioner. In relationships, David is direct and articulate. You will find him to be especially approachable and a good listener.
Of course I'll still be in the office as usual. Then, after several months, I am going to relinquish my fine practice to David. And you will be in wonderful hands!
I cannot hide the love I have for you, my patients and parents, and for my dear, devoted staff, each of whom will continue to be here to greet and care for you. But I have treated children since I was 23, and it is time for the next part of my life. My wife, Libby, calls it "the wisdom years." I intend to continue devoting myself to build the future our children deserve.
Like me, Dr. Rothman prefers "old fashioned" personal relationships. After you meet, I know you will be delighted that I've passed the torch on to him.
We're looking forward to seeing you and continuing to give you all the excellence and affection we can.
With my warmest wishes,

Lionel Traubman, D.D.S., M.S.D.
---
Return to Dr. Rothman's and Dr. Traubman's Office Homepage
Return to Main Homepage