The Jewish-Palestinian Living Room Dialogue Group of San Mateo, California USA
including event participants
Raeda Ashkar, Morgan Bach, Araxi Bezdjian, Elias Botto, Fanny Botto, Jebril Fayyad, Issa Ibrahim
Lareen Jacobs, Steve Jacobs, Debbie Rakotomalala, Judy Serebrin, Len Traubman, Libby Traubman, Miriam Zimmerman

offer international citizen relationship builders

The 2015 Season of Light
Global Video Bridge




To meet, speak, and listen to one another for mutual
international learning and inspiration — light.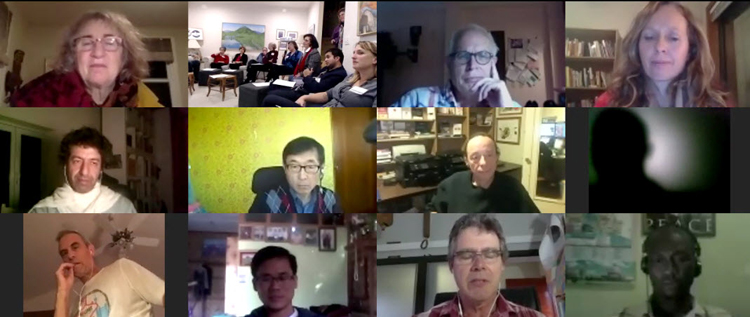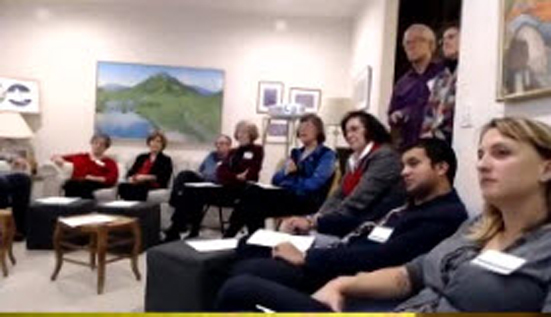 The Participants
(partial list)
AFRICA
Offuh James Offuh (Cote d'Ivoire)
Usman Mohammed Inuwa (Nigeria)
Chris Spies (South Africa)
ASIA
Hla Myo Naing (Myanmar)
Sungho Kang (South Korea)
CENTRAL AMERICA
Winslow Myers (Belize)
MIDDLE EAST
Elad Vazana (Jerusalem)
NORTH AMERICA
Edwin Rutsch (California USA)
Janessa Gans Wilder (California USA)
Jewish-Palestinian Living Room Dialogue of San Mateo (California USA)
Steven Kalishman (Florida USA)
Andrea Cohen (Washington USA)
One Hour

Monday, 07 December 2015


4:30-5:30pm Hawaii &nbsp ~ &nbsp 6:30-7:30pm California &nbsp ~ &nbsp 8:30-9:30pm Chicago, Mexico City, & Belize
9:30-10:30pm New York &nbsp ~ &nbsp 11:30pm-12:30am Chile

Tuesday, 08 December 2015
2:30-3:30am GMT and Cote d'Ivoire &nbsp ~ &nbsp 3:30-4:30am Nigeria &nbsp ~ &nbsp 4:30-5:30am Jerusalem and South Africa &nbsp ~ &nbsp 5:30 - 6:30am Moscow
7:30-8:30am Lahore, Pakistan &nbsp ~ &nbsp 8:00-9:00am New Delhi, India &nbsp ~ &nbsp 9:00-10:00am Myanmar &nbsp ~ &nbsp 10:30-11:30am Manila & Hong Kong
11:30am-12:30pm Seoul and Tokyo &nbsp ~ &nbsp 1:30-2:30pm Sydney, Australia &nbsp ~ &nbsp 3:30-4:30pm Auckland, New Zealand

Arrive 20 minutes early to test your equipment and connection.





HOW TO CONNECT:




1. &nbsp Click on

https://zoom.us/j/5126812154

to join meeting #5126812154

2. &nbsp Click to

Run

launcher software that appears.

3. &nbsp Your Zoom meeting screen will appear.

4. &nbsp Click on

Settings

at bottom of screen.

5. &nbsp In both

Audio

(Speaker and Microphone) and

Video

(Webcam) drop-down boxes, select your correct devices.

6. &nbsp To see everyone on your screen, select

Gallery Mode

, otherwise

Speaker

, in the upper right of your screen.

7. &nbsp You are ready!!
More about the participants
AFRICA
Cote d'Ivoire (Ivory Coast)
Offuh James Offuh (e-mail)
Facilitator, Founder of United for Peace Against Conflict International (UFPACI)
Nigeria
Usman Mohammed Inuwa (e-mail)
Facilitator, Founder of Forward in Action for Conservation of Indigenous Species & Leadership (FACIS)
South Africa
Chris Spies (e-mail)
Dialogue Practitioner and Facilitator of Mutual Learning Spaces, described personally and in his blog
ASIA
Myanmar
Hla Myo Naing (e-mail)
Edu-Learner and Founder of Practising English And Civil Engagement (PEACE)
South Korea
Sungho Kang (e-mail)
Educator and Chairperson, Steering Committee of the International NGO History Forum for Peace in East Asia
CENTRAL AMERICA
Belize
Winslow Myers (e-mail)
Journalist and Author of "Living Beyond War: A Citizen's Guide"
MIDDLE EAST
Jerusalem
Elad Vazana (e-mail)
Reconciliation Facilitator, Founder of Tour for Change, maximizing travel to experiences diverse narratives and people as equal human beings
NORTH AMERICA
California USA
Edwin Rutsch (e-mail)
Founder of the Center for Building a Culture of Empathy, creating a global movement of empathy and compassion
Janessa Gans Wilder (e-mail)
Former CIA Insurgency Analyst, Founder of Euphrates Institute, envisioning a world at peace beginning with the Middle East.
Jewish-Palestinian Living Room Dialogue of San Mateo (e-mail)
This online event's host with deep roots including several hundred outreach endeavors to help humankind connect, communicate, and cooperate.
Florida USA
Steven Kalishman (e-mail)
Founder of Citizen Diplomacy Initiatives including the Gainesville ~ Kfar Saba ~ Qalqilya Sister City Program
Washington USA
Andrea Cohen (e-mail)
Facilitator, Senior Trainer of The Compassionate Listening Project
Sponsored by the Jewish-Palestinian Living Room Dialogue Group
celebrating 23 years of sustained talking, listening, and helping people engage