September 2003

Oseh Shalom ~ Sanea al-Salam
First Palestinian-Jewish Family Peacemakers Camp
---
Friday-Sunday, September 12-14, 2003


at Camp Tawonga in the northern California mountains
on the Tuolumne River near Yosemite National Park
(see camp photos)
There is something irreplaceable about summer camp -- the outdoor group living experience near nature -- that allows us to slow down and discover ourselves, each other, and what is important.
We remember where we are and who we are.
We can discover new creativity, so what was impossible is suddenly possible.

---
Our first Oseh Shalom~Sanea al-Salam Jewish-Palestinian Family Peacemakers Camp here in California is history.
It was extraordinary and helped us discover and appreciate so much more than was possible only in our 2-1/2 hour living room settings.
Forty-five adults, twenty-four youth, 50 staff -- families, singles, ages one to sixty-five -- deep Dialogue into the night, hikes together, boating and ropes courses, evening campfires with heart-rending music and talent show, shared art and Middle Eastern meals, and a closing handwashing ceremony and personal statements of connection and change under the trees on the banks of the pristine Middle Fork of the Tuolumne River.
Palestinians and Jews, three days and two nights close to Creation and one another at Camp Tawonga in the northern California mountains near Yosemite National Park.
Away from -- but very much connected to -- the "reality" of Israel and Palestine, we continue to help each other discover and enact another very possible "reality" that just might trickle back across the waters to Jerusalem.
This life together can be a decision-away for other Jews and Palestinians with the imagination, energy and will to grow together -- and stay together.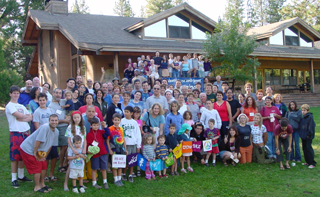 We encourage you to imagine and recreate this experience for yourself, those in your circle, those who could be in your circle -- and you in theirs -- as we offer you about 100 photos, at:

http://share.shutterfly.com/action/welcome?sid=8AbtmbJq0aMm29



---
Post-event article published in the Jewish Community News -- November 2003
The Camp Tawonga Web site is at http://www.tawonga.org/weekend-programs/peacemaker.php .

Read about all 12 North American camps for Arabs and Jews, at http://traubman.igc.org/camps.htm .
(Camp Tawonga's Web site)
Camp 2005
Camp 2006
---
Return to Family Homepage
Return to Main Homepage