Tuesday evening mapped in ART FORM
---
September 2006

Oseh Shalom ~ Sanea al-Salam
Fourth Palestinian-Jewish Family Peacemakers Camp
---
Welcoming travelers from Israel, Palestine, Canada, and the U.S.




Friday-Monday, September 1-4, 2006

Labor Day Weekend
four days at Camp Tawonga in the northern California mountains
on the Tuolumne River near Yosemite National Park
AND

Tuesday evening, September 5, 2006


St. Mary's Cathedral Conference Center
public San Francisco report-out by campers and staff
for Bay Area students, families, and all interested citizens to attend
~ ~ ~ ~ ~ ~ ~ ~ ~ ~ ~ ~ ~ ~ ~ ~
PEOPLE
Over two hundred inspired Palestinian and Jewish participants
travelers from 29 towns in the Holy Land
over 50 international youth and adults, women and men equally
representatives of Israel, Palestine, Jordan, Canada and Japan.
PLACES
Travelling from Tel Aviv, Jerusalem, Nablus, Jenin, Neve Shalom~Wahat al-Salam
Petach Tikva, Kfar Kassem, Misgav, Sakhnin, Ramallah, Beit Sahour, Hebron
Tulkarem, Beer-Sheba, Araba, Amman, Tokyo and many other towns.
GROUPS
Participants of Peace Child Israel, Interfaith Encounter Association
Youth Without Borders, Center for Conflict Resolution and Reconciliation
Arava Institute for Environmental Studies, Combatants for Peace, Future Generation Hands
Nir School of the Heart, Young Israel Forum for Cooperation, and
Japan-Israel-Palestine Student Conference ­ sophisticated, highly motivated youth in Japan
who initiate inviting Israeli and Palestinian students to a safe place to communicate better.
AND NORTH AMERICANS
From Michigan, DC, Minnesota, Illinois, Florida, Oregon, Utah, Texas, Washington & California
~ ~ ~ ~ ~ ~ ~ ~ ~ ~ ~ ~ ~ ~ ~ ~
(see 2007 camp photos and story)
(see 2005 camp video, photos and story)
(see 2003 camp photos and story)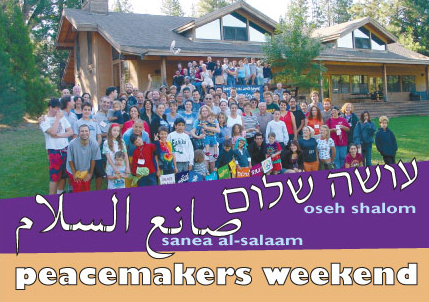 A new quality of Listening and Dialogue
Relationship building ~ Leadership training
Cross-generational ~ Singles, families, elders, youth
Art and culture from diverse traditions
River and waterfall walks ~ Relaxation
Ropes courses ~ Boating ~ Swimming
How-to of the public peace process ~ Ethnic foods
Ages one to eighty ~ Farm animals
Shared family photos and memories
Singing ~ Dancing ~ Ceremony
Hiking ~ Talking ~ Campfires
Time to create our future together
Read about the growing family of 12 North American camps for Arabs and Jews
described at http://traubman.igc.org/camps.htm .
---
(Camp Tawonga's Web site)
Affordable range of fees — only what you can afford:
ADULTS — $100-$300 YOUTH (3-18) — $80-$240 CHILDREN (under 3) — $40-$140
Application information:
Ann Gonski &nbsp ~ &nbsp Ann@Tawonga.org &nbsp ~ &nbsp (415) 543-2267 Ext. 105
scholarship help available
---
WHAT CAMPERS SAY:
"I came to camp with a 'show me' attitude. But the weekend was a transformative experience that helped free me from the past and begin to move forward."
-- Israeli camper, daughter of Holocaust survivor
"It was a weekend to remember. People could express themselves and be heard in a safe place. If it can be done here, it can be done anywhere. We both demonstrated to each other that we do not need to be enemies."
-- Palestinian man, born in Ramallah
"I found deep meaning in meeting 'the enemy' more personally for the first time." -- Israeli recent IDF soldier "Words cannot be enough to tell you how thankful I am to be part of the amazing weekend. It can be very hopeless sometimes. The past weekned charged me with hope, with the feeling of empowerment and support."
-- Palestinian young woman from East Jerusalem
"Meeting Palestinians directly from Israel/Palestine provided me with a completely different understanding of the Middle East. And what a pleasure to not only hear Arabic and Hebrew conversations, but to hear them in an atmosphere of goodwill."
-- Jewish American woman
"I have never had such a deep and friendly experience with a Jew or an Israeli. The camp is a great experience that enables Palestinians and Jews not only understand each other but also understand themselves. I would love to help to make the camp of 2006 even more successful."
-- Palestinian young man from Jenin
"Seeing this important process up close was fascinating, and gives me much hope for a more peaceful future. Thank you for letting us report this story to our viewers, and for making us feel so welcome."
-- American woman CBS-TV news producer
(2006 Press Release)
---
Return to Family Homepage
Return to Main Homepage